Materials Science and Engineering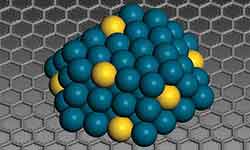 Submit Abstract
Register Now
Material science and engineering, also commonly known as materials science, encompasses the science, chemical engineering and chemical technology of materials and is an integrative subject which gives an idea about the discovery and design of new materials. It deals with studying materials through the materials paradigm (synthesis, structure, properties, and performance). In accordance with chronology, materials are segregated into natural and synthetic and they in turn are divided into inorganic, organic, bulk, micro scale and Nanoparticles. These various materials exhibit different properties according to their nature. This leads to the advancement in the field of electronics and photonics through basic, potentially transformative materials science research.
Energy materials like photovoltaic cells help in sustaining energy resources. Mining and metallurgical studies involve in the manufacturing processes which convert raw materials into useful products adapted to human needs. It deals with materials-processing, their properties, and their selection and application. Computational Materials Science has a huge scope and calls for hierarchical and multi-scale methods involving modelling, simulation and first-principle calculations on all materials classes.
Optimization processes are particle packing problems, such as how densely hard particles can fill a volume; topology optimization method can be used to determine material microstructures with optimized or targeted properties and the generation of realizations of random heterogeneous materials with specified but limited microstructural information. A Tunable material shows a variable response to an incident electromagnetic wave with the combination of a metamaterial. Surface science is the study of physical and chemical phenomena that occur at the interface of two phases along with solid–liquid interfaces, solid–gas interfaces, solid–vacuum interfaces, and liquid–gas interfaces. It is closely related to study of surface, which targets at modifying the chemical composition of a surface by incorporation of selected elements or functional groups that produce various desired effects or improvements in the properties of the surface or interface. Biomedical materials are prepared from tissue engineering for the compatibility in the human body. Optoelectronics is the study and application of electronic devices that source, detect and control light, usually considered as a sub-field of photonics. These devices are electrical-to-optical or optical-to-electrical transducers, or instruments that use such devices in their operation. It is based on the quantum mechanical effects of light on electronic materials, especially semiconductors, occasionally in the presence of electric fields. Superconductivity is a phenomenon of exactly zero electrical resistance and expulsion of magnetic fields occurring in certain materials when cooled below a characteristic critical temperature. Molecular electronics is the study and application of molecular building blocks for the fabrication of electronic materials. wing to their extraordinary thermal conductivity and mechanical and electrical technologies, carbon nanotubes act as additives to various structural materials.
For more information PS: Materials Conferences | Materials Chemistry Conferences | Materials Chemistry 2020
Various species of materials and materialistic properties
Electronic and photonic materials
Catalytic materials for energy
Mining and metallurgy
Surface science and engineering
Thin films and heterostructures for oxide electronics
Optoelectronic materials
Emerging materials and their technology
Molecular electronics
Elements of biomedical materials
Computational materials science
Optimization of materials and structures
Biomaterials
Biomimetics
Tunable materials
Energy harvesting materials
Piezoelectric materials
Materiomics
Related Conference of
Materials Science and Engineering
Materials Science and Engineering
Conference Speakers
Recommended
Sessions
Related
Journals
Are you
interested

in